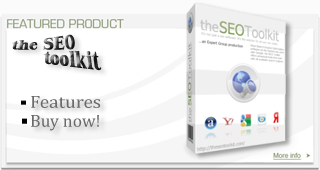 When deciding to build a new site you need to decide on a few things before you get to do the actual sites.
What will your website be about?
Who is your target?
What type of site do you want?
But way before you even ask yourself the questions listed above you will need to do some careful research to see if people are interested in reading or buying what you will have on your site. So to sum it all up the first phase is Research.
Research can be done using various tools. However we only recommend using the SEO Toolkit which is by far the best tool out there. You will find targeted keywords that have traffic and are easy to rank on. You can do advanced research jobs and reverse-engineer the backlinks of your competitors. Having the upper-edge was never easier. With the SEO Toolkit there's no limit of what you can do.
How does the software work?
The software works even if you don't have the slightest clue of what niche you want to get into. All you need to do is start with a "one word keyword" that can be as generic as sport, health or so on. The software will provide you lots of suggestions and at the same time it will pull down a wide selection of statistics that you can use. From this point on you can drill down even further and find long tail keywords or you can do a totally new search. The software offers the possibility of gathering results from different searches. You can then sort them by various parameters such as CPC, CTR, number of searches and so on.
Found a couple of keywords. What now?
After you have found some keywords it's time to build content. Before you start keep in mind that niche sites rank easier so you'd better check again and make sure the keywords that you chose in the previous step relate. Build content around these keywords. Make sure you write at least 40 keyword rich articles. Even if your site will be a store you can still add content to it on auxiliary pages.