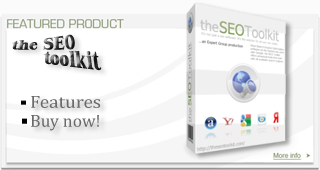 Often times we find ourselves in the need of doing extensive research work. We are either looking for a
good domain name
, we want to
spy the competition
or we want to come up with that perfect
keyword list
.
Are you tired of using several if not tens of software and to top things of you don't even get the results that you are after? Well, look no further. the SEO Toolkit is the perfect solution for all your research needs.
If you are a new webmaster you will surely appreciate how easy it is to
find good keywords
related to a niche or how easy it is to
uncover a new niche altogether
. Experts also like this feature because the research offers many parameters allowing you to get more complex results.
Do you already have a niche? Then why not search for that
perfect domain name
? the SEO Toolkit does
bulk domain checking
. You can load a txt file with thousands of domain names and the SEO Toolkit will find you available domain names: expired or never registered before domain names. You don't have a list with domain names? Then don't worry, our software can find you great expired domain names that still have links and even some traffic. When you buy the SEO Toolkit we offer you our secret guide on how to find hundreds of such domain names.
OK. Now you have both a domain name and good keywords to try to rank on. But you don't have a site: no content, no design, etc.
Research was usually done in the past in order to spy on the competition and those who did their research work all the time were always at least one step ahead of their competition. the SEO Toolkit can offer you this unique advantage. You can easily research and see what your competition is on all search engines: Google, Yahoo, Bing, etc. You can then let the SEO Toolkit make a full screenshot of each of your competitors site. You can then later analyze what do they all write about, what is the general trend in design for that niche and so on. After gathering all of the above information you will know what you have to do. You can either choose to write the content and design the site yourself based on the above guidelines or you can choose to hire a freelancer to do it for you.
Your research work doesn't stop here. After you have your site built you will need to promote it. You can follow our
link building
guide and do the basic promotion yourself. But we recommend you do more than that. First submit your site to web directories.
Manual directory submission
is the way to go. 4DL offers the best services so be sure to check them if you don't feel like submitting the site yourself to thousands of web directories. Alternatively you may choose to use an automatic
directory submitter
. This is the cheapest way to do directory submissions. Also, don't forget to submit the pages from your site with the best written content to the major social bookmarking sites (digg, del.icio.us, stumble). Chances are your competition has done all of the above and if not all then most of it and to top things of they have additional backlinks pointing to their site from different sources.
Here it pays to do the extra research. Using the SEO Toolkit to find those extra sites that offer them links will ultimately offer the final blow that will rip your competition apart and will sky rocket you ahead of them. This research technique is called reverse engineering their promoting efforts. You will find out all the places that they get a link from and you will either be allowed to instantly get a link towards your site from that exact page that they are getting a link from, for free or you will have to manually contact the webmaster of the site that is linking to them and ask for a link. Either way this method will ensure you will have the upper hand over your competition and thus rank ahead of them in the search engines. Have fun crushing your competition with the SEO Toolkit!