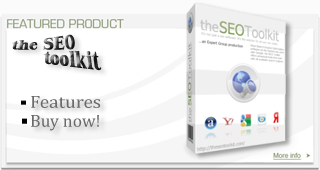 Mass PR check
Check a big list of domains and instantely get their Page Rank values from Google. You would normally have to manually check each url from that list and then write down each specific value. Some of us even tried those online mass PR checker scripts that often times proved unreliable. You would either get few of the PR values wrong or you won't get those values at all and then you would still have to write down each of those values down.
But what about sorting? If I want to sort multiple domains by PR what should I do? All these questions and more are now solved with thanks to "the SEO Toolkit" - the best SEO software.
You can easily load a list of urls from a file and check those for Page Rank, Alexa, Yahoo BackLinks and much more. You will get the results that you need very fast thanks to our revolutionary software. There is nothing like the SEO Toolkit out there.
What if you don't have a list of urls? What if you just want to check your competitors or your own links for PR (or for that matter any urls in the world that you might find using specific searches in Google, Bing, Yahoo, etc)?
Look no further. the SEO Toolkit extracts results from any search engines at warp speed. It even gets passed those search engine limits: maximum results per search (1000 in Google), minimum search interval waiting time, bot detection, and so on. You will have that url list in record time and you will be ready to import it at a click of a button in the research tab. These you will find the Page Rank values for all those urls. the SEO Toolkit will fetch Page Rank for multiple domains too. In our above examples the SEO Toolkit will not only get PR values for each URL but it will get the PR values for each domain too.
After you get all the needed data from your research you will be able to sort the list of results in whichever way you want. This sorted list can then be saved in multiple formats: csv, xml, txt, and others.
the SEO Software multiple functionalities don't end here. Mass PR Checking is just one of them, be sure to check them all by reading the SEO Toolkit
seo software
home page.