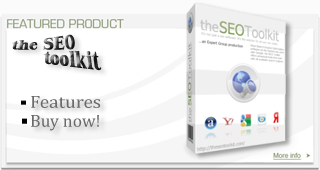 You can use the following search queries in order to gather a list of sites where you can get a link from.
- Forum list in seconds
"Powered by vBulletin® Version"
"Powered By IP.Board"+*.* +"© 2009 IPS, Inc."
"Powered By: phpBB 2001 - 2006 phpBB Group" inurl:Forums
"Board Index" "Powered By: PhpBB"
- Gather bookmark sites
"Powered By Pligg" "Legal: License and Source"
- Blog comment pages
"Author Email (optional): " "Author URL (optional): "
"Username (*required)" "Email Address (*private)" "Website (*optional)"
- Possible link partners
inurl:"link-exchange.html"
inurl:"link-exchange.php"
"Link Request Form"
"Link request " "HTML Code:"
You probably noticed how hard it is to extract the results from Google or other search engines. Especially for those searches that return thousands of results. How much time would it take for you to check each link/url in particular and then add it to a list?
the SEO Toolkit does all of the above in minutes. You can also get ranking information for each url it gathers and thus you can sort the urls by parameters like alexa, Page Rank, number of backlinks in Google and others.
Don't take our word for it, check it yourself in the screenshots below: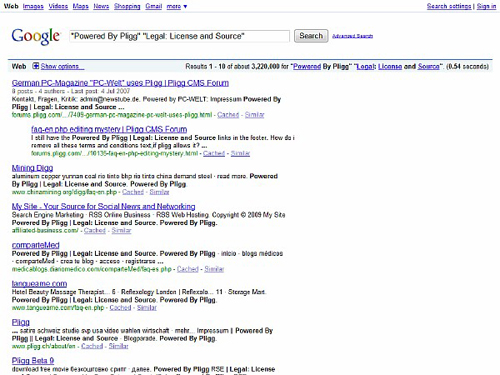 (vs)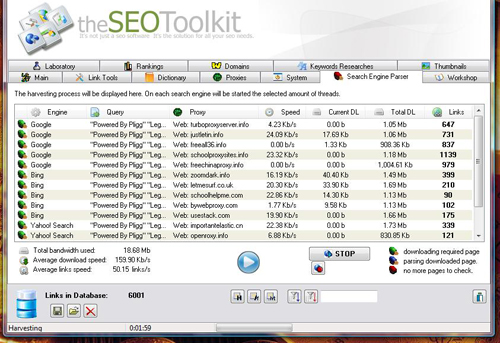 Download the list with
1000 pligg sites
[list filtered down on 02 Oct 2009 from 6000 urls that were gathered in less than 2 minutes]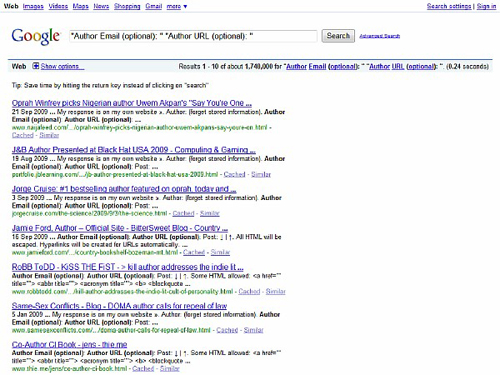 (vs)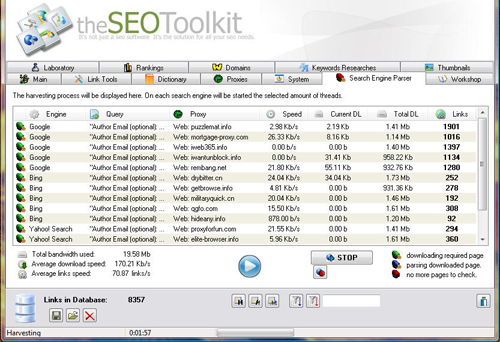 Download the list with
8300+ blog sites with PR
[the SEO Toolkit gathered over 8300 blog comment pages in less than 2 minutes]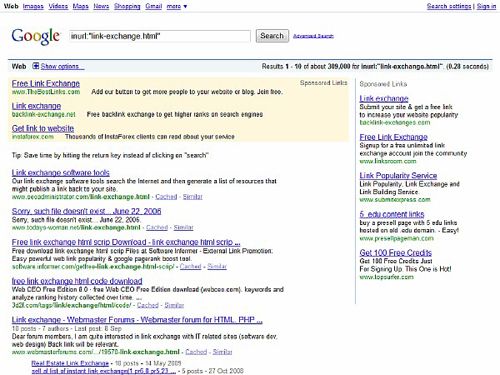 (vs)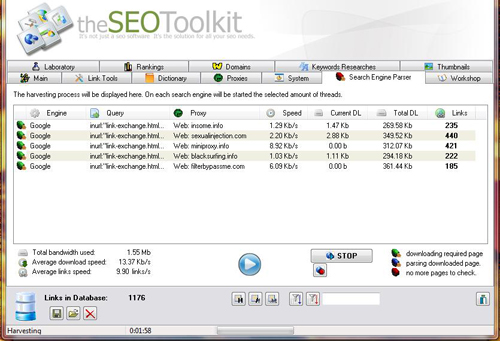 1100+ sites looking for link-exchange
[alternatively download the
350+ email list
with keywords]
By using the SEO Toolkit you already have by now an updated list of urls where you can get a backlink from (forums, social bookmarking sites, blog comment pages, and from various link exchanges that you can do with other people).
Here is how to get a link from each of these types of sites(link building done the easy way):
Getting a link from forums:
Forums often times allow you to set a signature. Signatures can have a motto, images, or even links. The signature you set is attached to all your future posts and all the old posts that you have (if you have set to include signature in your posts). A post is a reply to someone elses thread or the text you write when you start a new thread. Getting links from forums is very easy and this is why you could end up with more than few hundreds links even after the first week of doing forum posting. The signature is usually set in the User Control Panel page or the Profile page. Be careful though: some forums do not allow signature until you reach a certain number of posts. We recommend you to do those posts and then set the signature and continue posting.
Link building done with social bookmarking
A Bookmark it's by itself a link with a short description. Once you have your updated Pligg list (the list is gathered by the methods shown above) you will start navigating through each of those sites. You can then submit any page from your site and add a corresponding description to it. (since this is social bookmarking try to submit pages with content rather than a contact or about us page)
Comment your way up
Blogs are sites full of fresh content and most of the times they have a high authority in Google. You have in your hands a list of blogs with high Page Rank, low Alexa and thousands of incoming back links just asking you to put a comment and your link on them. Don't be hasty though, the key here is to do things right. Believe me you don't want to do something stupid and get your ip/site/email marked as spam.
Doing things right: Read the whole blog post. After you are done reading go through all or most of the existing comments. Notice how other comments have their link attached. Are there only people names as anchor text for links or do you also find keywords as anchor text to people links? You don't want to be any different from this point of view. Chances are that if the blog has only comments from people that have their link linked with their names as anchor that the blog owner accepts only those kind of comments. Next try to ellaborate a good response (not to short and not to big either, and make sure it isn't generic. That screams spam and blog owners hate that). After you filled the comment, fill your email and url. Under name fill either your main keyword you wish to rank on or a fake/real name. Remember to see what works best for each forum.
The beauty about the above link building methods is that you will get one way backlinks to any page from your site. Not necessarily towards your main index. Be sure to use this to your own advantage.
Exchanging links with others
This method involves you finding potential link partners that are willing to exchange links with you. See, there are many people out there that are looking for a link exchange but often times they are very picky. Either they only want to exchange links with people from a certain niche or with sites with a minimum Page Rank of X or with Alexa lower than Y. Nonetheless, the key to success with exchanging links is to keep searching for link partners until a point when they'll find you so often that you won't have time to even respond to all their link requests. Start with the list you just gathered for finding potential link partners. Some of those pages don't have a submission form but instead offer the webmaster email. In this case you need to contact the webmaster yourself via email. Usually you would want to put a link towards them first so that in the email you can already give them the link code they have to put on their site. This way you got a higher success ratio at getting link partners because most of these webmasters have plenty on their heads and if you do a link exchange request that lasts 4,5 or even more mails you will most certainly lose him/her along the way.