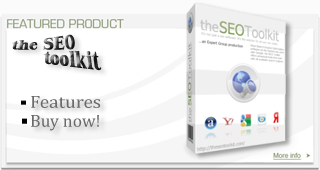 Keyword research is a process that must always be part of any SEO you do. You don't want your efforts to be in vain. When you do seo for a site you either optimize for keywords that get a decent amount of traffic or for money keywords. Money keywords are those highly targeted keywords that even though they get low traffic they usually result in high conversions. So, for example, if you promote a product on your site then this means a money keyword is one that will most likely result in you making a sale.
After keyword research you will usually end up with a big list of keywords specific to a niche. These keywords will help you build titles, meta descriptions, content for your site, headers, various alt attributes for images, links and link text.
For the pourpose of gathering a list of keywords we use SEO Toolkit.
The most searched for keywords are your top tier keywords and the next ones you choose are the 2nd tier keywords. You should also choose lesser searched for terms. These are also known as 3rd tier or long tail keywords. Top tier terms are very hard to rank on. When you start a new site we recommend you to focus more on second tier keywords. In order to build a site from scratch with seo optimization in mind you must assign three to five different keywords to each page of your website. Build more than four pages with content and make sure all keywords used are close related to your niche.
Spend enough time and effort in building a good keyword list and it will be definitely worth it.