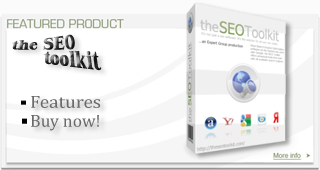 Incoming links have a great importance and contribute a lot in boosting your site traffic and thus your site popularity. You will usually end up getting more traffic when you have more links not just because of the traffic being sent from those links but from the search engine result pages. Turns out that having lots of incoming back links turns the search engines on your side and makes them put your site higher in the search engine results. Here's how to find quality sites that will link to you:
There are many articles on the web that explain how to search and find quality link partners by using Google or other search engines. According to these articles the techniques are very much the same. However as time passes most of these methods no longer work or don't work as well as they used to. We put up a method that will work forever.
Choose one of the following techniques and use it after replacing the phrase between the double quotes: "keyword Phrase" with your main niche keyword. The key word phrase is the key because you want sites that are of the same subject matter as your own to link to you. Try different related key phrases that you want your site to be found by when somebody does a search on the search engine. Also be sure to use that same key phrase in all your link titles.
intitle:add+url "keyword phrase"
intitle:submit+site "keyword phrase"
intitle:submit+url "keyword phrase"
intitle:add+site "keyword phrase"
intitle:add+your+site "keyword phrase"
intitle:directory "keyword phrase"
intitle:list "keyword phrase"
intitle:sites "keyword phrase"
By using all of the above examples (all at once) you can come up with 100's (even thousands) of potential link partners all who have good page ranks with Google. You should make sure that the sites accept new link partners and that the pages your links will appear on will have a Google PR.
This process could take endless hours to complete. Take it up a notch and finish it in minutes, plus you get to sort all your potential link partners by Page Rank, Alexa, or Incoming back links. Be one step ahead of your competition, use TST - The Seo Toolkit!