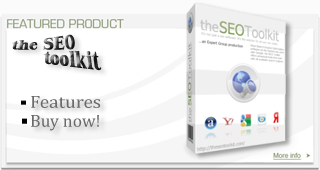 With the SEO Toolkit you will be able to quickly find great domain names expired or never registered before with links and some even with traffic. This might seem a little far fetched but I can assure you it's not. the SEO software lives up to its name and proves once again it is the best SEO software out there.
If you follow our guides (included with the software) you will find domain names that people wanted to register before but for whatever reason they chose not to.
Did this ever happen to you? You were searching for a great domain name and you checked at least 10 names and eventually went only for one of those names. After a week or so you vaguely remembered about some of the other names and realized those were better. But you didn't register those and to top things up you don't remember the domain name exactly and you can't buy it just because of this.
There are thousands cases like this world wide. People often times stumble upon an idea that they then forget.
Tap into this secret cash machine right now using the SEO software. We will show you how easy it is to find hundreds if not thousands of such domain name ideas. Also, there's no limit to what the SEO Toolkit can do.