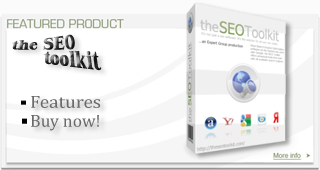 This is the software to check domain availability with. The SEO Toolkit outruns all its competitors in terms of how fast it can find mass domain availability. You can quickly determine what domains are available and which not. Even if you need to check a list with thousands of domain names, that won't take more than a couple of minutes to check.
Those online mass domain checker are really no good. Few really do come close to their reputation and those usually steal your domain ideas by logging them and giving the best ones to their authors.
Never trust an online tool to do the job of a desktop application. Sad to say desktop mass domain availability search tools are not that better too. We don't want to brag or anything but the SEO Toolkit is better than any of the available SEO software from this field in everyway.
To back up our claims we guarantee that if you find another feature on a different mass domain checker that we don't already have we will put it on our TO-DO list and implement it in our next software updates.
If you don't already have a list of domains that you want to mass domain check then don't worry. We don't leave you hanging. We also provide detailed reports on how to find expired domains (the reports are included with the software) or how to find other great names that are available. Then run our domain mass check availability built-in feature. You will have a list with mass available domain names that you can either sort by various parameters or save to a file. This is our mass domain checker.